House Painting Bonita Springs FL
Noel Painting offers the highest-rated and best house painting service in Bonita Springs. In fact, we offer a wide range of services when it comes to painting in Bonita Springs FL for both commercial and residential clients of all sizes.
Noel Painting is run by a father and son team that has turned a lifetime of painting experience and some serious sweat equity into one of the most trusted sources for residential and commercial painting in Bonita Springs and its surrounding communities.
Top-Rated House Painting in Bonita Springs FL
As a painting contractor in Bonita Springs, we have painted everything from modest family homes and multi-million dollar estates to Publix grocery stores, Harley dealerships, high-rise condos, and major hotels. When it comes to painting in Bonita Springs FL, we've probably tackled almost every project, big or small.
We are the best painter in Bonita Springs when it comes to residential painting projects. We will first discuss your needs, your budget, and your property with care and respect. Then we know that the job needs to be done right and demand the highest caliber of craftsmanship and conduct from our team. They will be on time and your painting in Bonita Springs will be done on schedule and on budget.
Expert Painting Contractor Bonita Springs Residents Trust
For our commercial clients, we are the premier painting company in our area. You've probably seen our work and didn't even know it. Our experienced team has painted hotels, condo buildings, retail stores, and nearly every other type of commercial project there is. You don't get asked back as many times as we have if you don't do the job well, on time, and on the money.
Noel Painting prides itself on being the best painting contractor in Bonita Springs. We do each job efficiently and within budget. This is what has made us the first choice of many of the region's top contractors, and why we've even been called to fix lesser Bonita Springs painters companies' work.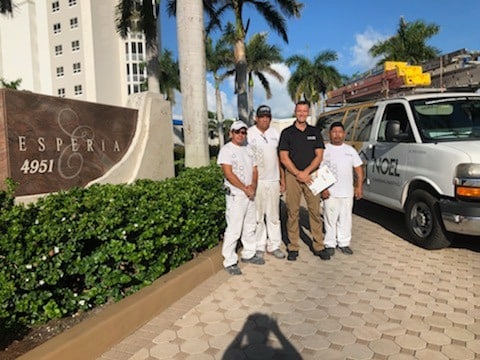 We Are the Most Trustworthy Painting Contractor in Bonita Springs!
We promise to deliver the price we quoted you at the beginning of the project. Our estimators walk through every step of the project personally, on-site. We ask questions. We listen. We work with you and determine the best approach to your job and give you all the details. This makes us the most reliable and trustworthy painting contractor in Bonita Springs.
Some random facts about Noel Painting include: we use roughly 77,500 gallons of paint a year, we've painted over 10,000 homes in the past 40 years, and we paint 60-80 Publix stores each year.
Call Today for the Best Painter Bonita Springs Has to Offer!
Noel Painting is proud to serve the city of Bonita Springs. Bonita Springs is known for its fishing and outdoor activities and is home to the Conservancy of Southwest Florida Nature Center as well as the Lovers Key State Park.
If you have been searching for a Bonita Springs painting contractor, it's time you call the experienced and professional team at Noel Painting. We deliver the best customer service, the most reliable process and product, and overall treat every project as if it were our own home or business. Contact us today to discuss your residential or commercial painting project today.