Expert Painting Services in Bonita Springs by Experienced Painters
Painting Bonita Springs FL
If you're thinking about freshening your home with a new coat of paint, you may consider hiring a painting service. While it's certainly possible to tackle the job yourself, there are a few good reasons to leave it to the professionals. For one, painting can be quite time-consuming and labor-intensive, especially if your home is large or has a lot of detailed work. A professional painting service can get the job done more quickly and efficiently. In addition, they'll have the necessary tools and supplies for the job and know how to properly prepare surfaces for painting. Perhaps most importantly, though, a good painting service will be able to provide you with high-quality work that will last for years to come. When it comes to something as important as your home, it's worth taking the time to find a reliable and reputable painting service. And at the end of the day, you'll want to ensure your investment in new paint is worth it.
Transform Your Home with Our Professional House Painting in Bonita Springs
If you're searching for painting Bonita Springs, FL, painting contractor in Bonita Springs, or painter Bonita Springs, our team at Noel Painting is here to help. There's nothing like a fresh coat of paint to give your home a new lease on life. But if you're not careful, painting can also be a tedious and messy ordeal. That's where we come in. We're experts at painting houses, and we've honed our craft over years of experience. We know all the tricks of the trade, from how to prep a surface to how to choose the right paint for the job. And because we're professionals, we can do the job quickly and efficiently, no matter how big your house is. As a leading Bonita Springs painting company, we take pride in our reliability to get the job done right, every time. That's why we're the best painter Bonita Springs has to offer.
Trusted Painting Contractor in Bonita Springs for Residential and Commercial Projects
A fresh coat of paint can do wonders for a home inside and out. It can brighten up a space, add personality, and even make a small room appear larger. But not all painting companies are created equal. At Noel Painting, we pride ourselves on providing best-in-class painting service from start to finish. Our team of experienced painters will take the time to properly prep your home before applying any paint, ensuring that the finished product looks its best. And because we understand that budget is always a concern, we provide transparency and communication throughout the entire process, so there are no surprises. Our services are some of the most high-quality and efficient house painting Bonita Springs offers.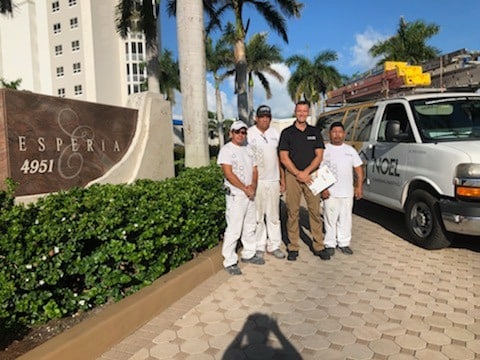 Your Go-To Painting Company for Exceptional Quality and Service in Bonita Springs
Bonita Springs is a beautiful coastal town in southwestern Florida. The town is located on the Gulf of Mexico, and it offers stunning views of the water. Bonita Springs is also known for its abundant wildlife. You can find alligators, turtles, and numerous types of birds in the area. In addition, Bonita Springs is home to several state parks and nature reserves. The town has a relaxed, small-town vibe, and its residents are friendly and welcoming.
Enhance Your Property's Appearance with a Top-Rated Painter in Bonita Springs!
If you live in Bonita Springs and are searching for painting in Bonita Springs, FL, painting contractor Bonita Springs, or Bonita Springs painting contractor, give us a call at Noel Painting. We come from a background of hard work and tenacity, and we're proud of our results as some of the top Bonita Springs painters. We let our results speak for themselves. We look forward to showing you how we can revitalize your home with a new painting job!